Overview
Area: 2.520,6 km2
Population: 856.250 (2009)
Bac Lieu is a coastal province in the Mekong Delta, South Vietnam. The province is bounded by Hậu Giang and Kiên Giang to the north; Sóc Trăng to the east; Cà Mau to south west; the sea the south with 56 km of coastline. It has 280 km from Bac Lieu city to Ho Chi Minh City.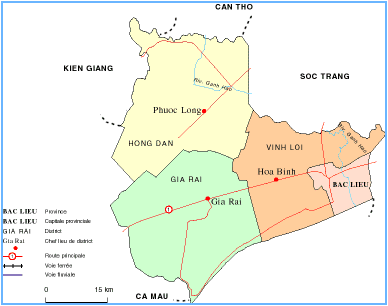 Transportation
Local transportation infrastructures include waterway and roadway. National highway No.1A runs through the province (total length of 68 km in the province) makes it really convenient for transportation and economic development. Besides that provincial road system was upgraded. However, major transportation means in Bac Lieu is waterway with total 324.5km long.

Economic Situation
Total GDP in 2011 reached 9,826 billion, up 12% compared to 2010. In 2011, Per capita income reached nearly 25 million (approximately $ 1,123).
Economic structure: agriculture accounts for 51.7%, industry - construction accounts for 24.52% and services accounts for 23.78%. The total developed investment made in 2011 reached 5,603 billion, up 18.36% over 2010 (approximately 25.83% of GDP).