The Creaders Chinese-language website on 8/8 cites the US news agency Bloomberg on August 7 that the plan of the Japanese government is going well so far. As of July 22, the first donation has been made by the government, totaling 70 billion yen ($ 653 million) has been spent, benefiting 87 companies, including 30 companies that have left China moved to Southeast Asian countries.
The famous Japanese home appliance maker Panasonic and auto parts maker Denso Corp will be relocated to Indonesia; HOYA's hard drive glass base factory will be transferred to Vietnam and Laos; Sumitomo's rubber glove factory will be relocated to Malaysia; The Shin-Etsu chemical rare earth magnet production line was moved to Vietnam, etc.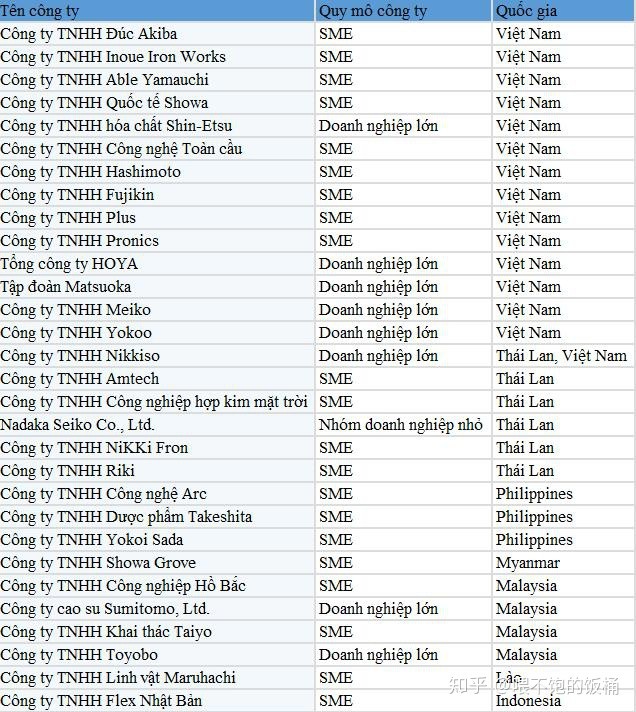 List of Japanese companies leaving China moving to Southeast Asian countries (Photo: Zhihu).
Japan's Fujikin company will use about 2/3 of the production cost subsidy fund to move production lines from China to Vietnam. According to the report, half of the above 30 companies have moved from China to Vietnam.
Bulletin of Bloomberg quoted Shinya Nojima, President Fujikin said before the Japanese government announced the subsidy policy, the company was considering increasing production capacity in Vietnam. The government's subsidy policy is very timely and consistent with the company's plan. Since Chinese suppliers were once shutting down factories due to disease, Fujikin customers also expressed concern about purchases and whether orders could be completed on time.
Mr. Satoshi Kitajima, Deputy Director of Japan External Trade Organization (JETRO), also said that many Japanese companies are moving production activities to Vietnam. Japanese direct investment in Vietnam has increased significantly since the financial crisis and shifted from China to Vietnam before the US-China trade war and the outbreak of COVID-19. .
Since this year, Southeast Asian countries have raced to step up their efforts to attract foreign investment. In July, Malaysian Foreign Trade and Industry Minister Datuk Seri Azmin said the withdrawal of Japanese companies from China was a good opportunity for Malaysia to attract foreign investment. Malaysia has arranged the training to provide skilled manpower.
Indonesian President Widodo said in May that he would resolve all foreign investment related issues. The Indonesian government in June announced that seven foreign companies, including three Japanese companies, will move factories from China to Indonesia, with a total investment of up to $ 850 million.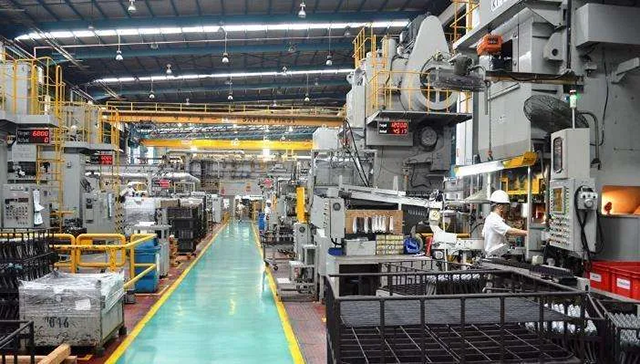 More and more Japanese companies are moving production lines out of China to avoid dependence on China's supply chain (Photo: qctt).
In the past 10 years, Japan's net investment in Vietnam, Thailand, Indonesia, Malaysia and the Philippines has been around US $ 139 billion, according to Bloomberg 's newsletter .
30 companies mainly moved to Vietnam (15), Thailand (6), Philippines (3), Malaysia (4), Laos (1), Indonesia (1) and Myanmar (1). Among them, Nikkiso Co., Ltd has also established new companies in both Thailand and Vietnam.
In terms of business types, companies in medical equipment, semiconductors and home appliances tend to prioritize Vietnam; rubber equipment manufacturer Sumitomo Rubber Industries chooses Rubber Kingdom Malaysia ...
According to the Japan Foreign Trade Promotion Organization (JETRO), each Japanese company that leaves mainland China can receive a subsidy of between $ 900,000 and $ 46.5 million from the Japanese government.