Total area: 1,256 km2
Population 887,069 (2009)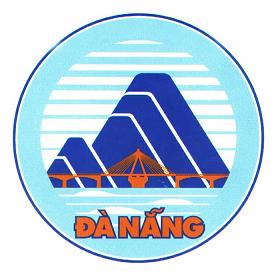 Da Nang is the largest city in central Vietnam and one of the country's most important ports. Ringed by mountains on one side and the South China Sea on the other, Da Nang borders Thua Thien – Hue Province across the Hai Van Pass to the north, Quang Nam Province to the south and west, and the ocean to the east. It is 759 km (472 mi) south of Ha Noi, and 960 km (600 mi) north of Ho Chi Minh City.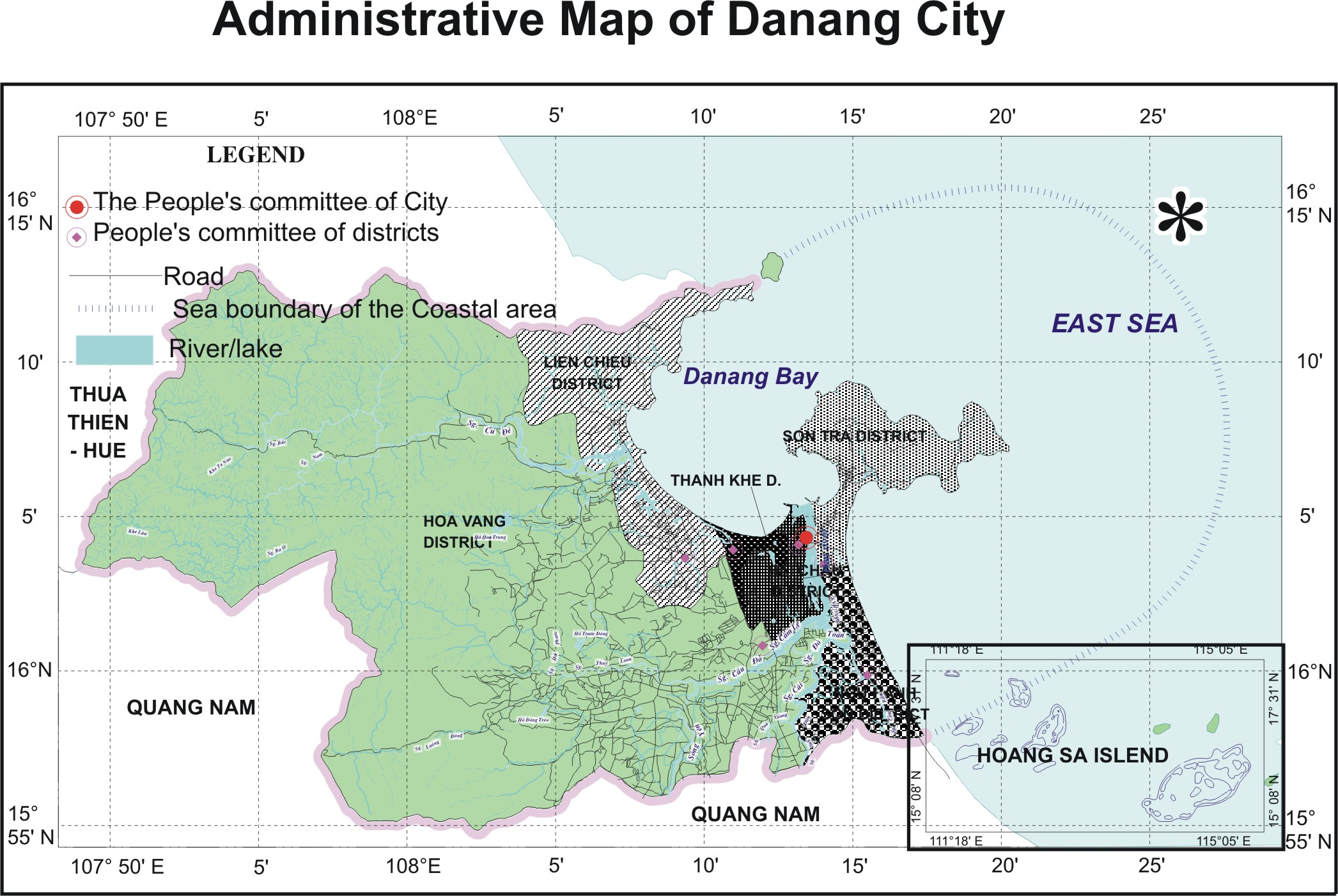 INFRASTRUCTURE
The system is quite convenient with all 4 means of transportation: roadway, railway, seaway and airway.
Railway
North - South railway along the city with a total length: 30 km with five stations: Da Nang, Thanh Khe, Kim Lien, Hai Van Nam and Le Trach
Roadway
On the city has a total of 525.889 kilometers of roads
Airway
Da Nang International Airport is the most important airport for both the Central and Western Highlands with domestic and international routes.
Seaport
Da Nang port's the third largest commercial port in Vietnam after the ports of Saigon and Haiphong. Seaport: Tien Sa, Song Han, Lien Chieu.
Danang has a transportation network is quite complete with the Hai Van Pass Tunnel is one of the most modern in Southeast Asia.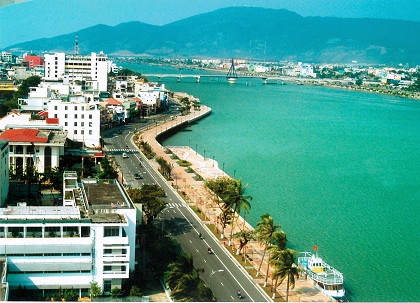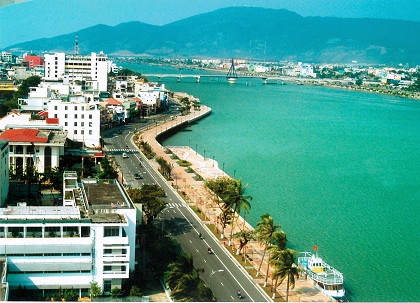 ECONOMIC SITUATION
GDP (2010): 10,400 billion dong
GDP per capita (2010): 33.2 million
Total FDI (5/2010): 2.7 billion
Provincial Competitiveness Index (PCI)'s Da Nang headed in Vietnam in three year 2008, 2009 and 2010, and in 2011, ranked 5/63, and the head of infrastructure index, ranked No. 4 on the investment environment. The economic structure continues to shift towards services - industry - agriculture. The development orientation to 2020, Da Nang continue to improve infrastructure and industrial development focus, linking the development of industrial parks with the development of urban systems and services. Construction of high-tech industrial parks, industrial information technology to create favorable conditions to attract, develop the high-tech industries (electricity, electronics, refrigeration, mechanical , precision engineering, biotechnology, new materials technology ...) and the industry of information technology and telecommunications.
NECESSARY INFORMATION
People's Committee of Da Nang Province
Address: 42 Bach Dang, Hai Chau Dist., Da Nang city
Tel: +84 (511) 3822575
Fax: +84 (511) 3825321
Website: www.danang.gov.vn
Planning And Investment Department of Da Nang Province
Address: 47 Ngo Gia Tu, Hai Chau Dist., Da Nang
Tel: +84 (511) 822217
Fax: +84 (511) 829184
Website: http://dpi.danang.gov.vn/home
Da Nang Natural resources and Inviroment
Address: 57 Quang Trung, Hai Chau Dist., Da Nang
Tel: +84 (511) 822410
Fax: +84 (511) 863021
Website: http://tnmt.danang.gov.vn
Da Nang IPs & EPZs Management Board
Address: 58 Nguyen Chi Thanh, Hai Chau Dist., Da Nang.
Tel: +84 (511) 830017
Fax: +84 (511) 830015
Website: http://www.iza.danang.gov.vn
Korean Dentium debuts factory in Đà Nẵng
The Korean Dentium company, a high-quality implant producer, has introduced its first ICT Vina Factory in the central city's Hi-Tech Park after four months of construction.

Da Nang tech park draws $180 million investment

Central city invests in infrastructure of hi-tech park

Prime Minister highlights strategic role of Da Nang port

Real estate investors pour money into Da Nang City

Danpha receives ground for VND1.5 trillion Danang nanotechnology project

Da Nang courting Japanese investors

Japan firm to invest in Da Nang education

Japan collaborates with Danang on Lien Chieu Port upgrade