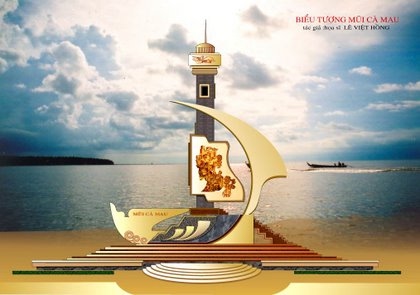 Area: 5,331.6 km2
Population: 1,118,830 people
Ca Mau is a province of Vietnam, named after its capital city. It is located in the Mekong Delta of southern Vietnam, and is the southernmost of Vietnam's 58 provinces. It is bordered on the north by the Kiên Giang and Bạc Liêu provinces, on the west by the Gulf of Thailand, and on the south and east by the South China Sea (often referred to as the "East Sea".)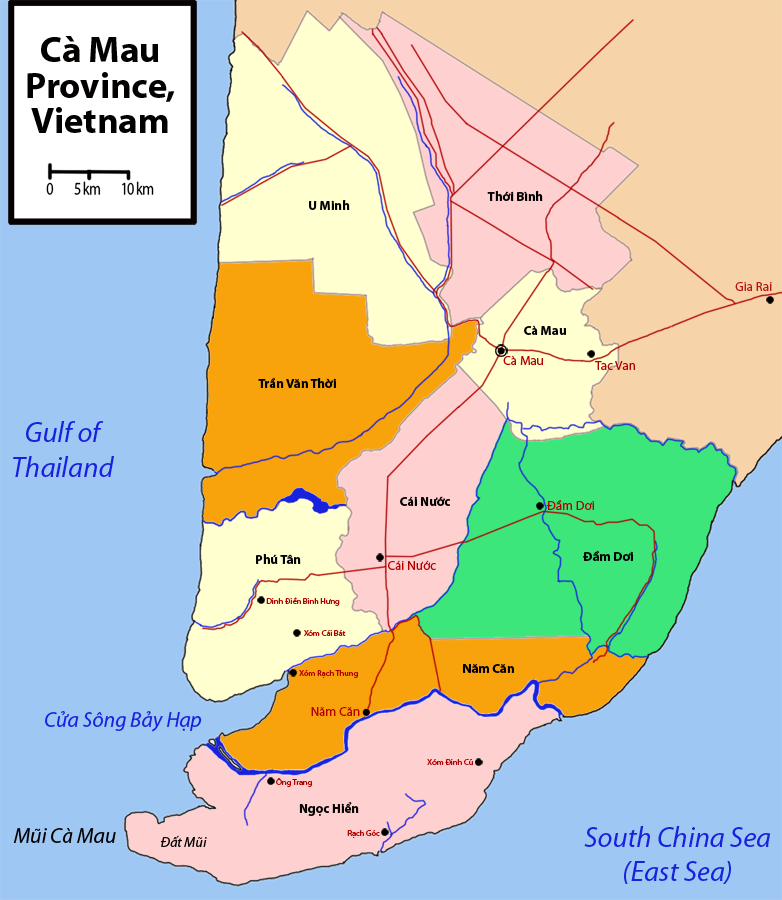 TRANSPORTATION
Roadway: National Roadway No. 1A and No. 63 to Ho Chi Minh City 380 km and 180 km of Can Tho city. From Ca Mau City can travel to Mekong river provinces delta easily.
Waterway: Ca Mau has great rivers such as River Bay Steam, Ganh Hao River, River Christian, Trem river ... very convenient for waterway traffic traveling around the region Mekong Delta and Ho Chi Minh.
Seaports: Nam Can port is important ports of the system in Cuu Long River Delta. The port is more favorable conditions in the expansion of trade with other countries in the region such as Singapore, Indonesia, Malaysia ... Currently, the capacity of goods through the port over 10,000 tons/year.
Airway: flights from Ca Mau airport to Ho Chi Minh City has been expanded and upgraded, shortening travel time between Ca Mau provinces and Ho Chi Minh.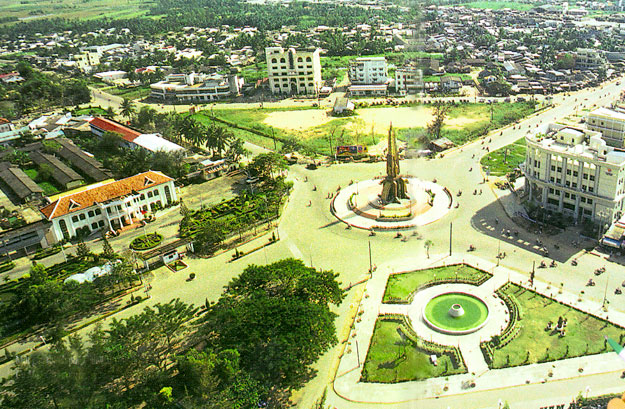 ECONOMIC SITUATION
Gross domestic product (GDP) in 2011 (in constant 1994 prices) is estimated at 16,109.91 billion, 98.05% of the plan, up 10% over the same period. In 2011 the province has 10 projects calling for investment in infrastructure of industrial parks, industrial and residential areas and new urban areas.
In QD163/2008/QD-TTg Ca Mau Province set a target of economic development with high-speed, sustainability and accelerate investment in infrastructure construction. Striving to 2015 formed the economic structure of industry - service - agriculture, by 2020 became a province with economic - social development.
NECESSARY INFORMATION
People's Committee of Ca Mau Province
- Address: 02 Hung Vuong, Ward 5, Ca Mau
- Telephone: +84 (0780) 3831352 - 3836824
- Fax: +84 (0780) 3833343 - 3838623
- Email: [email protected]
- Website: http://www.camau.gov.vn
Planning And Investment Department of Ca Mau Province
- Address: 93, Ly Thuong Kiet Street, Ward 5, Ca Mau City.
- Tel: +84 (0780) .3831332
- Fax: +84 (0780) .3830773
- Email: [email protected]
-Website: http://sokhdt.camau.gov.vn/
Ca Mau Natural resources and Inviroment
-Address: 69, Phan Ngoc Hien, ward 6, Ca Mau City.
-Tel: +84 (0780) 3833 025 - 3562 230
-Fax: +84 (0780) 3821 014 - 6252 944
-Email: [email protected] - [email protected]
-Website: http://sotnmt.camau.gov.vn/
Ca Mau IPs & EPZs Management Board
-Address: No. 84, Phan Ngoc Hien, ward 4, Ca Mau city, Ca Mau province
-Tel: +84 (0780) 3825 866
-Fax: +84 (0780) 3825 477
-Email: [email protected]
-Website: http://banqlkkt.camau.gov.vn

Ca Mau seeks to woo investors