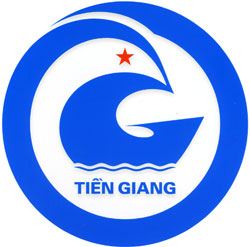 Area: 2,481.8 km2
Population: 1,681, 582 (2010)
The province is bounded by Long An and Hồ Chí Minh city to the north and eastern north, Bến Tre and Vĩnh Long to the south, Đồng Tháp to the west, and the sea to the east.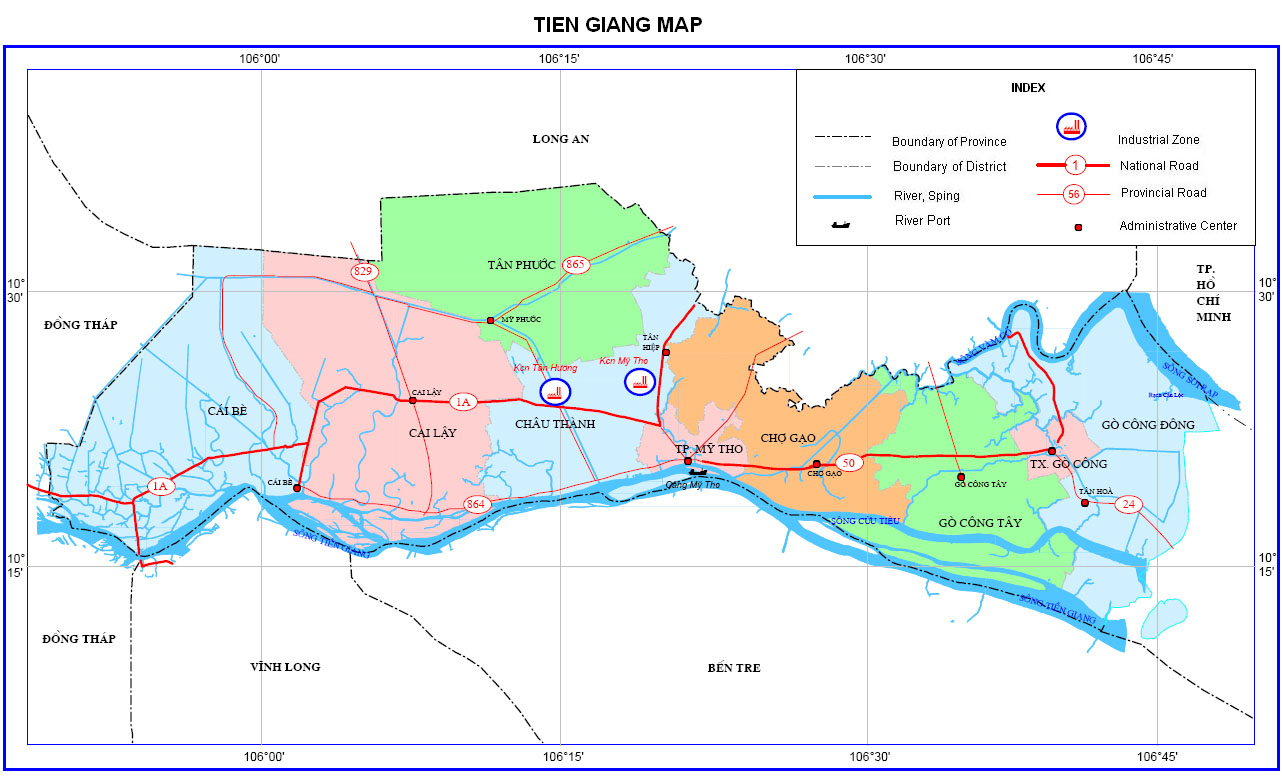 INFRASTRUCTURE
The province's main means of transportation are waterway and roadway. In terms of roadway, the highway linking Ho Chi Minh city and Trung Luong reduce the time spent to travel from My Tho city to Ho Chi Minh City. The system of waterway is convenient, connecting the western provinces with Ho Chi Minh City by the mainlines of Tiền river, Chợ Gạo channel, Soài Rạp river etc. Besides, the province has Mỹ Tho port with annual capacity 250,000 tons. The convenient transportation system makes great contribution to the province's economic development.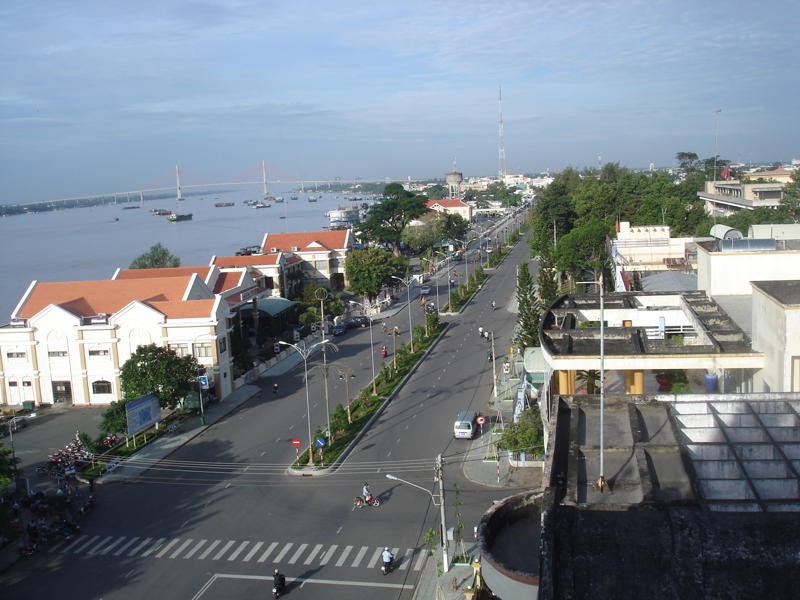 ECONOMIC SITUATION
Gross domestic product in the first 6 months of 2012 was estimated at 8232 billion (1994 constant prices), up 9.3% over the same period in 2011.
Economic growth rate has slowed compared with the preceding 2 years. Economic structure: moving slowly, increasing the share of industry, construction, services and agricultural density decreases. Agriculture, forestry and fisheries accounted for 47.2%, industry - construction accounted for 26.3%, service sector accounted for 26.5%.
Tien Giang in the following years steering the economy out high-speed development, sustainability and accelerate investment in infrastructure construction, increased competitiveness for goods and products of local services, striving to 2015 formed the economic structure of industry - service - agriculture, to 2020 Tien Giang became a province of economic - social development. With economic growth (GDP) increased an average of 12.5%/year for the whole period from 2006 to 2020, 2020, approximately $ 4,050/person.
NECESSARY INFORMATION
People's Committee of Ca Mau Province
- Address: No. 23, 30/4 St., Ward 1, My Tho City
- Phone: +84 (073) 3873153
- Fax: +84 (073) 3873680
-Website: http://www.tiengiang.gov.vn/
Service Of Planning And Investment Of Tiengiang Province
- Address: No. 38, Nam Ky Khoi Nghiast., Ward 1, My Tho City
- Tel: +84 (073). 3873381
- Fax: +84 (073). 3875487
- Email: [email protected]
Ca Mau Natural resources and Inviroment
-Address: No. 11, Le Loi St., Ward 1, My Tho City
-Tel: +84 (073) 3872475
-Fax: +84 (073) 3878404
-Email: [email protected]
Tiengiang Industrial Zones Management Board
-Address: 27, Nam Ky Khoi Nghia St., ward 4, My Tho city.
-Tel: +84 (073) 871808
-Fax: +84 (073) 871808
-Email: [email protected]
Tiền Giang develops hi-tech agricultural park
The southern province of Tiền Giang will invest VNĐ1.2 trillion (US$52.8 million) to build a high-tech agricultural park on a 197ha area in Tam Hiệp, Long Định and Tân Lập 1 communes in the 2017-30 period.

President of Hungary to visit and work in Tien Giang Province

Vietnam raising foreign capital for tourism, entertainment properties

Tien Giang: 1 billion USD for urban and industrial zone development