- Area: 1,676 km²
- Population: 1,825,771 (2009)
- Province: Nam Định town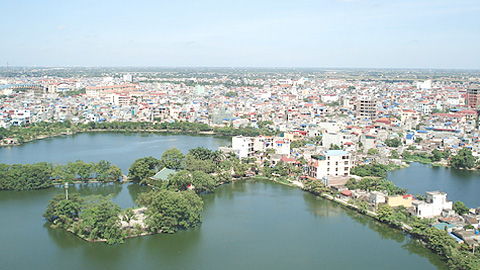 - Districts: Giao Thủy, Hải Hậu, Mỹ Lộc, Nam Trực, Nghĩa Hưng, Trực Ninh, Vụ Bản, Xuân Trường, Ý Yên.
- Ethnic groups: Kinh, Tày, Mường, Hoa.
- Location: Located in eastern North Vietnam delta, Nam Định is bordered by Thái Bình province to the north, Ninh Bình province to the south, Hà Nam province to northwest, and the Gulf of Tonkin in the east.
- Traffic routes:
Major land routes running across Nam Định include the National highway No. 1A, which leads from Hanoi, via Tam Điệp, to the borderland of Thanh Hóa province. With the National highway No. 21A, travellers can easily go from Sơn Tây to Văn Lý, from Đồng Văn to Hưng Yên, from Phủ Lý to Như Trác, from Phủ Lý to Chi Nê, from Nam Định to Hải Phòng, and from Vụ Bản to Cồn Vành, Nho Quan, Lạc Sơn.
The railway, in line with the 1A, leads to Thanh Hóa.
The waterway is convenient, with three large rivers – the Red river, the Đáy river, and the Ninh river..
- By land, it is 90 kilometres from Nam Định to Hanoi, 172 kilometres to Việt Trì, 193 kilometres to Hải Phòng, 19 kilometres to Thái Bình, 213 kilometres to Phú Tho, 160 kilometres to Thái Nguyên, 466 kilometres to Sa Pa, and 568 kilometres to Huế.
- Famous tourist destinations: the Castle of the Trần dynasty, Giao Thủy natural reserve, Thịnh Long beach, Vị Khê flower village, La Xuyên wood-caving craft village, Phủ Giày, and Phổ Minh pagoda.
Nam Dinh strives to lure investment
More than 60 investors and representatives from apparel companies and financial institutes from different countries gathered in a workshop held in northern Nam Dinh province in June 2015 to discuss policies to attract investment to the locality and its Rang Dong Garment and Textile Industrial Zone.